4 Unique Pool Designs for your Backyard
Posted by Alison Alston on Monday, May 24, 2021 at 8:55 AM
By Alison Alston / May 24, 2021
Comment
Summer is the time when people want to spend as much time outside in the sun as possible before sweater and boot weather comes along. Whether you are looking to enjoy the great outdoors, or simply relax in your backyard, we have some pool design ideas that you don't want to miss. When it comes to looking back at fond summertime memories, a pool is usually included in that mix.
Do you live in an area where the summer is boiling hot? Make your dreams a reality when considering these pool designs for your backyard. However, the choice of which design to go with is not always easy. Is it better to select something out of a magazine, or consult with a design expert? We review all the poolside possibilities in this backyard extravaganza article.
1. Modern Stone Oasis
Whether big or small, your backyard is the perfect place to have your own oasis. A swimming pool doesn't have to be square or round, it can be any size or shape you like that fits your style. To pull off this look, you'll want to top your pool with larger paving stones with a natural edge, this will give a more old-fashioned feel to your pool while giving it clean lines. A swim-up lounge or gazebo is a perfect way to incorporate shade, comfort, and style into your backyard.
2. Botanical Pool Design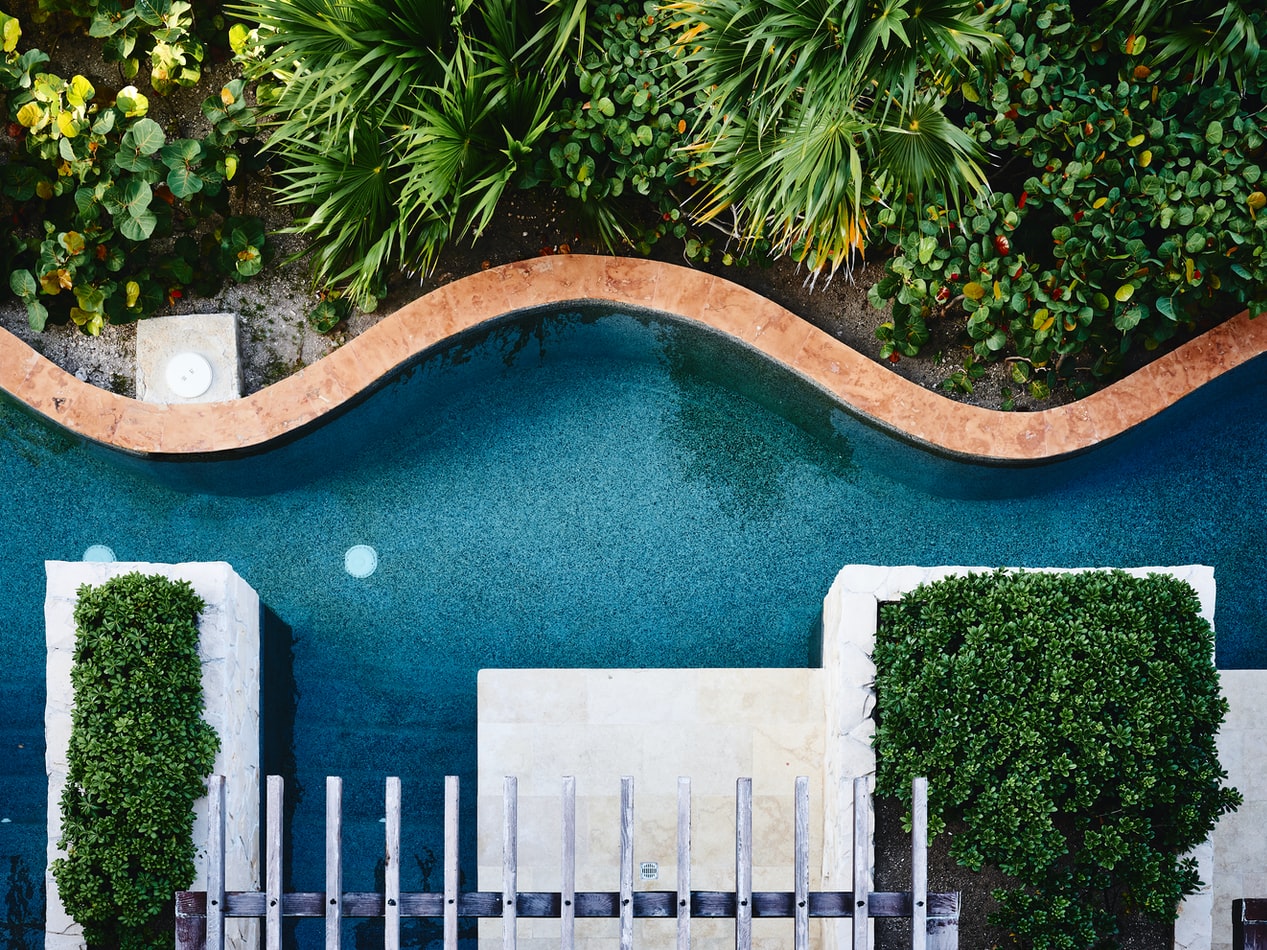 If you love a more natural look to your backyard and want it full of color and vibrance, a terraced swimming pool with hanging flowers and vines would be a perfect addition to your watering hole. Smaller than a traditional pool and less square is the name of the game for this style. However, with so much natural flora around, make sure to add some safety features for small critters to get out of the pool in case they happen to fall in.
3. Infinity Pool
For an uneven backyard, a dual-level infinity pool would be the perfect style to fit the flowing needs of your space. This will keep the backyard looking natural while adding the modern flare of clean lines and a more open feel. Adding a few shade trees near the upper level will keep your pool cool and covered without impeding the view. If trees aren't your style, sun sail will keep those clean lines intact while offering shade to your backyard fun.
4. Waterfall Design
For those who want the perfect oasis feel within a limited space, adding a natural stone-lined saltwater pool with a waterfall feature is the most unique option that will allow you to stand out from all your neighbors. Saltwater pools help with buoyancy and feel silky to the touch versus traditional chlorine-treated pools. Adding a waterfall will give your afternoon float an island quality you won't get anywhere else.
No matter if you are upgrading the space with plans of selling a home or wanting your own summer fun, be sure to make your backyard watering hole safe if you have small children or animals around. Safety doesn't have to come at the expense of style or space, so be sure to incorporate that into the design with your architect or contractor! You won't want to wait, so start digging today!
Alex Capozzolo is a partner of Kind House Buyers, a real estate developer based in Washington. He has been writing for the real estate industry for several years. Kind House Buyers focuses on large multi-family houses around Tacoma and Seattle.